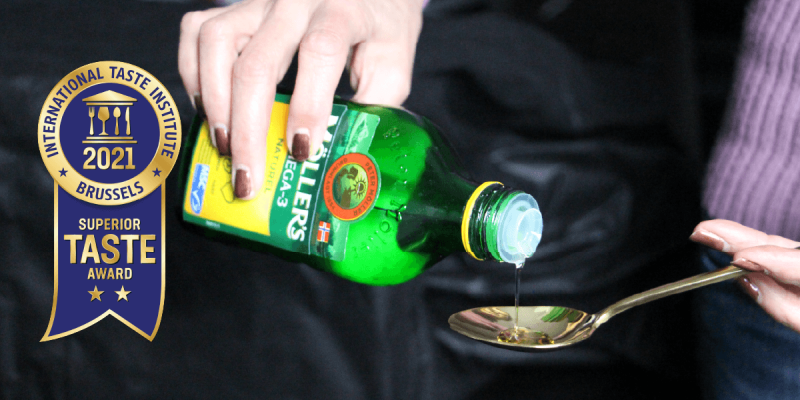 Cod liver oil with the best taste: in 2021 again awarded with Superior Taste Award
Tue 26 January 2021 by Lianne Van den Bosch
If you're wondering if cod liver oil is tasty, the answer is yes! In the past, a spoonful of sugar was often given, because the taste was very not-tasty. Möller's proves the opposite: all three flavors have been awarded a Superior Taste Award. With Möller's Omega-3 Lemon, Tutti Frutti or Natural you can easily take your daily dose of health.
Möller's Omega-3 is pure cod liver oil, which means that the oil is only taken from the liver of fresh fish and ends up almost immediately in the green bottle, so that almost no oxidation is possible. This makes the taste very neutral and soft. By adding a natural aroma you get a fresh, soft oil. The liver of sustainably caught Arctic cod is used for Möller's. This catch is MSC certified. Using the unique Möller method, a pure, high-quality cod liver oil is obtained, extremely rich in omega-3 and natural vitamin D.
Other fish oil or fish oil in capsules is in most cases not as pure, high-quality and natural as Möller's cod liver oil. This is because the entire fish is pressed and processed into fish oil. Then any vitamins are added because they have been lost.
Although cod liver oil has been very healthy for all ages, few were eager to take that spoonful of cod liver oil. The oil used to be very oxidized, which also does not benefit the omega-3 fatty acids. Oxidation means that oxygen is added to the fatty acids and the oil becomes rancid. Omega-3 is very sensitive to oxidation, but Möller's Omega-3 fatty acids are protected against oxidation (totox <5). The production process has been greatly improved and optimized. Production of the oil takes place in a nitrogen environment, free of oxygen. In addition, an antioxidant is added (vitamin E) and the high-quality oil is bottled in a green glass bottle, limiting exposure to light. A small tip for you: keep the bottle in the fridge after opening. This lower temperature extends the shelf life.
This award for Superior Taste proves that Möller's Omega-3 is very fresh and tastes good. Cod liver oil is still very healthy. It is the purest and most natural fish oil, rich in omega-3 and complete with natural vitamins A and D. Möller's Omega-3 is the Golden Drop for a reason!
best taste
cod liver oil
superior taste award
taste